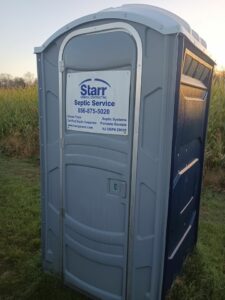 Starr Septic is your source for South Jersey portable toilet rental. It doesn't matter if you call them Porta Potties or Porta Johns, we have them available for your gathering, construction project or outdoor event.
Our South Jersey Portable toilet rental service features clean, new units delivered to your event or job site. Depending on your length of rental, we will service the units on-site and re-stock paper and sanitary products.
Available in Gloucester, Salem, Camden,  Burlington, Cumberland, Atlantic and Cape May Counties.
We also offer discounts for long-stay units. Request a Quote Today!
Starr Septic Services is a division of Starr General Contracting, a family-owned company that has been serving homeowners and businesses throughout the South Jersey region since its founding in 1984. We believe in offering quality service to our customers, and remaining a local company.
Reach out to Starr Septic for septic pumping, grease trap pumping, septic system repairs and installations and much more!
Features of Portable Toilet Rental Program
ADA Compliant Units
Hand Wash Stations (foot pump or hand sanitizer)
---
On Site Restroom Trailer
In addition to portable toilets, we also have an on-site restroom trailer that can be delivered to your special event. This cozy unit has all the comforts of home including: running water, real toilets, real sinks and private men's and woman's sides. Our portable restroom is perfect for corporate events, fundraisers, churches, graduation parties and large outdoor BBQ events.
Real Working Toilets
Real Working Sinks
Large Restrooms
Ultimate Privacy
Email Us for a Quote