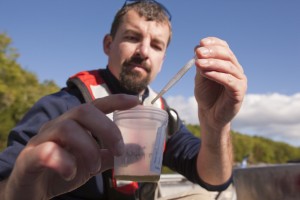 We are constantly performing septic inspections on systems across all of Southern New Jersey. Local real estate agents refer their clients to us because they know that our septic inspections are thorough, honest and fair. We stand behind every inspection we do because we know that the our reputation and those of the seller and agent are on the line.
Home Buyers should be aware that a home inspection does not constitute a proper septic system inspection. A Home inspector is only required to inspect the plumbing and septic lines inside the home. You need a qualified septic tank inspector to make sure that the system is working properly prior to purchasing the property.
Home Sellers should take the step of having a septic system inspection prior to putting their home on the market. It will be the seller's responsibility to get the septic inspection prior to sale.
We are a PSMA certified septic inspector skilled in evaluating septic systems for functionality and safety concerns. If you need your septic system pumped or grease traps cleaned, call the experts at Starr Septic Services. We are Southern New Jersey's Premier Septic Service.
Call Today or Click Below To Schedule One Of Our Septic Inspections (856) 875-5020
Contact Us!