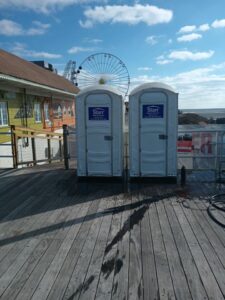 Starr Septic is your source for any and all South Jersey long term rentals on our portable toilets. It doesn't matter if you call them Porta Potties or Porta Johns, we have them available for your gathering, construction project or outdoor event. Our South Jersey long term portable toilet rentals feature clean, new units delivered to your event or job site. When you do a long term rental with Starr Septic we are able to  service the units on-site and re-stock all of the paper & sanitary products. When you go with starr Septic for your long term portable toilet rentals you know you're getting good service as we deliver the portable toilet to any location needed, put the portable toilet where you need it to be on the site, and we make sure everything is working properly throughout its time of usage! Choosing Starr Septic for your long term rental means you'll get the best service possible, we even offer a discount on long term rentals as opposed to the regular rental length!
long term rentals on portable toilets are Available in:
Gloucester, Salem, Camden,  Burlington, Cumberland, Atlantic and Cape May Counties.