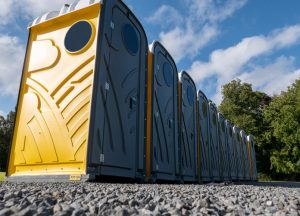 Starr Septic Services septic services offers 7 day portable toilet rental for those short schedules that need facilities for employees, guests and patrons. With so many other septic services out there, isn't it nice to know that you don't have to scramble for a solution for short term contracts? For many, it's a big concern for those instances with a large crowd with no permanent facility. Its that kind of concern that fuels Starr to use their pedigreed education to help you with your septic inquires.
Our innovative on site restroom trailer is perfect for short shotgun events complete with running water, real toilets, real sinks and private men's and woman's sides.
Your Local 7-Day Portable Toilet Rental Service
Starr Septic Services specializes in the design, installation and maintenance of residential septic systems. Knowing where and how to establish the proper set up for your venture should be left in the hands of professionals who have been down that road before. That's why our teams will work with you to evaluate your site to see the space availability and to take the necessary functional and safety precautions before putting pen to paper.
From there we design your system using the best minds the industry has, to ensure your portable pods are working at maximum potential. After the design is complete, we install that system completely. If you have a system already in place, we offer on call services for septic tank pumping and maintenance of failed systems.
Keep an eye out for the Big Blue Star – you can't miss it. Click here for more on our 7 day portable toilet rental package and others like it, or request a quote online here!
Starr Septic Services is a proud division of Starr General Contracting, your local destination for all of your construction needs, including electrical and plumbing services, painting and drywall, concrete and masonry and much more…we have been serving the South Jersey community since 1984, and we're proud to be a long time local company. Visit Starr General today to find out more about what we can do for your property!