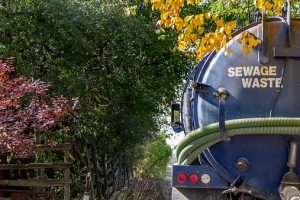 Regular septic pumping is a crucial part of owning a septic system and one of the Cumberland County septic pumping services, such as Starr Septic Services, will ensure your septic system runs properly. Our firm is one of the top septic pumping services in Cumberland County, with a great deal of experience in residential septic systems.
When a septic tank is emptied, the accumulated sludge is pumped out of the tank by a vacuum truck. In the case of Starr Septic Services, this truck is one of our well-known septic pumping trucks with the big blue star. You surely have seen one; they are constantly dispatched throughout South Jersey.
Most experts recommend pumping your septic tank every three years, but frequency should be based on the volume of the tank relative to the input of solids, the ratio of digestible to indigestible solids, and the ambient temperature. Other factors can come into play, such as usage, system characteristics, and the requirements of your municipality or utility authority.
Although, if you look into your septic tank, and you see high or standing water at the outlet, it is a good chance your system needs to be pumped. If you wait too long to have your septic system pumped, it can lead to environmental contamination, toilet backups, flooding, and damage to your home.
Few Cumberland County septic pumping services provide the level of expert services for residential septic systems as does Starr Septic Services. We also offer septic inspections, installations, and portable toilet rental along with grease trap pumping and, of course, residential pumping.
Reach Out For Your Cumberland County Septic Pumping Today.
If you are a Cumberland County property owner in need of septic pumping and maintenance, contact the professionals at Starr today, and leave the job to us.
Starr Septic Services is a Cumberland County septic service business based in Franklinville, NJ and have been serving the needs of local homeowners and businesses for over 30 years. Our septic services business is a division of Starr General Contracting.
Serving: Vineland, Bridgeton, Millville, Buena, Shiloh, Fairfield Township, Upper Deerfield