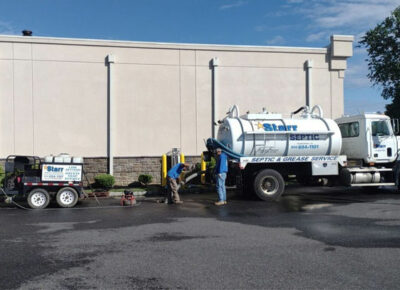 We here at Starr Septic are a well known and respected provider of South Jersey drain cleaning services. We have years of experience in the industry and a team of highly trained technicians, we are the first choice for any residents looking for a reliable and efficient solution to their plumbing problems.
We here at Starr Septic only use state-of-the-art equipment to quickly and effectively clear any clogs in your drains, no matter the size or severity. From slow-moving sinks and toilets to more serious blockages, our technicians have the skills and expertise to get your plumbing flowing smoothly again.
In addition to our high-quality services, we are also committed to providing our customers with the best possible experience. Our team is friendly, professional, and always willing to go the extra mile to make sure that you the customer is completely satisfied with the work we've done. Whether it's a simple drain cleaning or a more complex plumbing issue, our team at Starr Septic is dedicated to providing the best possible service. At Starr Septic, we understand that clogged drains can be a major inconvenience, which is why we offer competitive pricing and flexible scheduling options to make the process as stress-free as possible. With our combination of expert services and commitment to customer satisfaction, Starr Septic is the go-to choice for South Jersey residents looking for drain cleaning services.
Call Today or Click Below To Schedule One Of Our Drain Cleaning Services (856) 875-5020
Contact Us!