Atlantic County Septic Pumping Service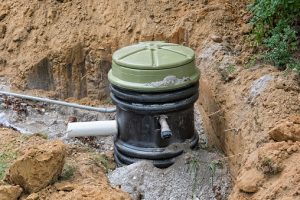 The professionals at Starr Septic are your choice for dependable Atlantic County septic pumping service. We are based in Franklinville, NJ, and service septic systems throughout the South jersey region.
Septic tank systems are a type of onsite sewage facility used in areas not attached to a municipal sewerage system. Most of these tend to be in less populated rural areas. Once treated in the tank with anaerobic bacteria, the effluent is commonly disposed in a septic drain field which provides further treatment.
Sometimes, the rate of accumulation of sludge – also called septage or fecal sludge – is faster than the rate of decomposition and the accumulated effluent must be periodically removed, which is commonly done with a vacuum truck.
The term "septic" refers to the anaerobic – or oxygen-free – bacterial environment that develops in the tank which decomposes or mineralizes the waste discharged into the tank. Septic tanks can be linked to other onsite wastewater treatment units, such as bio-filters or aerobic systems, which use oxygen to artificially force aeration and septage breakdown.
Your Choice for Atlantic County Septic Pumping Service!
At Starr Septic Services, our competent crew and our septic pumping trucks will help your septic system work properly. If you currently are seeking an experienced septic services provider, contact Starr Septic to take care of your residential septic systems. We offer the best septic system cleaning in South Jersey with our fleet of septic pumping trucks. Our customers know that the big blue star stands for quality.
Starr also provides commercial Atlantic County services for restaurants and catering facilities. We currently have standing contracts to service the septic system pumping needs of many fast-food restaurants throughout Atlantic County. Reach out to us today to find out more about our septic cleaning services and how we keep your systems running smoothly and efficiently.
Starr Septic is a proud part of Starr General Contracting, a local and family-owned business that has served the construction needs for South Jersey property owners since 1984. Whether you need plumbing, electrical, paint, or a variety of other services, Starr is ready for you…click here to visit the Starr website and find out more!