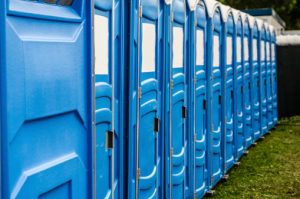 Starr Septic Services is your choice for affordable and reliable Gloucester County portable toilet rental. Starr is a septic services company located in Franklinville NJ, and we provide services to homeowners and businesses throughout South Jersey.
In addition to portable toilet rentals, we offer septic system installations and repairs, septic pumping, and grease trap pumping among other services.
Port-a-pots, port-a-johnnies, whatever you may call them, it's obvious you want a clean and brand new unit for people to use at an event, or for your workers to use at a job site. Starr will take care of the delivery of the unit for you, and depending on the length of the rental, we can service the units on site, including restocking of toilet paper and sanitary products.
Affordable Gloucester County Portable Toilet Rental
For your Gloucester County portable toilet rental needs, Starr offers 3-day, 7-day, and monthly rentals, ADA-compliant units and hand wash stations with a foot pump or hand sanitizer. If you require a long term rental or high volume short term rental, we offer our first class septic pumping service to keep them both clean and empty for everyone to safely use.
If you are in need of a more complete on site restroom trailer, we can deliver one to your project or event. The trailer unit features many more creature comforts, including running water, actual toilets and sinks, and private sides for both men and women. The portable trailer with additional privacy is ideal for corporate events, fundraisers and any size outdoor party.
Take advantage of our portable toilet rentals for your next large outdoor event or construction project. Starr is ready to meet your portable toilet needs with flexible rental agreements. Call us today at (856) 875-5020 or click here for a free estimate, and take one less worry away for your next outing.
Service Area Includes: West Deptford, Swedesboro, Glassboro, Mullica Hill, Paulsboro, Sewell, Mantua, Pitman
Starr Septic is a division of Starr General Contracting, which has been proudly serving South Jersey for over three decades. Starr General is a family-owned company that was founded in 1984, and we've been providing a variety of services to property owners and construction companies in the region, including plumbing services, dumpster rental, excavation and more. Click here to find out more about what the big blue star can do for you!