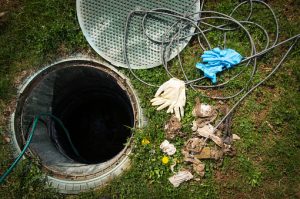 Starr Septic Services in South Jersey is your professional, affordable choice when it comes to commercial septic inspections. We are based in Franklinville, NJ, and have been providing septic services to South Jersey businesses for over thirty years. Our clients know that they can depend on the big blue star on our trucks for quality work. Starr is fully licensed and insured in the state of New Jersey.
Our comprehensive septic services include:
Commercial Septic Inspections. Starr has years of experience performing thorough, honest septic inspections for both businesses and home buyers and sellers. We can ensure that your septic system is working as designed and is safe, and we stand behind every inspection that we do.
Grease Trap Pumping. If you are a restaurant owner whose septic system needs pumping, we have the equipment and training to clean, pump and repair your grease traps. We currently take on the grease trap pumping needs for several fast food restaurants in the area, and we've seen and dealt with the worst of them.
Septic Pumping. In addition to regular commercial septic inspections, we strongly recommend having your septic system pumped on a regular basis, about every three years. Regular pumping can save you from backups and flooding, heavy costs, and potentially serious damage to your business's reputation. Our pumping services keep your septic systems efficient and functional.
At Starr, we are a PSMA certified septic inspector and can properly evaluate function and safety concerns, and we have the experience and equipment to address them as needed. If needed, we can replace your septic system with a brand new one, and we'll handle obtaining permits and municipal approval.
Take care of your septic inspection needs today and save yourself money and aggravation down the road. Contact us today for a free quote, and leave it to the professionals at Starr!